Table of Contents
Introduction
Celebrating International Women's Day
Awesome Ways to Celebrate International Women's Day
Wrapping It Up
We wouldn't be anywhere as a society without women. From the mothers that nurtured us to the visionaries who pushed the sciences and arts to a new level, women are an integral cornerstone of our reality that deserves a celebration unlike any other.
So if you are planning to celebrate International Women's Day we want to help you with some unique ideas to celebrate the women in your life and your community this year. Today at WEMAX, we are going beyond the expected deals for International Women's Day and coming up with unique and awesome ideas to make a real change and offer meaningful support to your local women's community.
Celebrating International Women's Day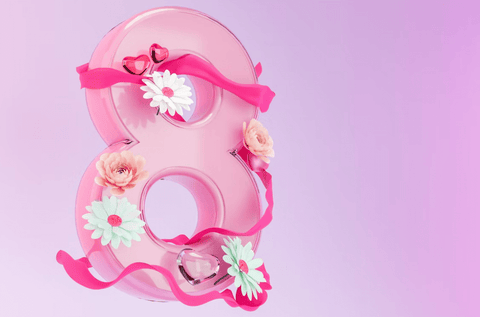 Held on March 8th and celebrated since the start of the 20th Century, International Women's Day is a date that aims to not only celebrate the achievements and importance of women all over the world but also bring attention to many challenges that persist in matters of gender equality, violence and beyond.
Women's Day covers a wide spectrum of concepts and activities, so there is only one way to celebrate it, and the date tends to be a very personal one. There's no such thing as a dress code or a recommended schedule, and celebrations largely come down to a personal choice.
Many cities hold parades or marches, oftentimes organized by the residents themselves. Other people use the time to spend with the women in their lives. And many commerces also hold unique women's day sales, meaning that there's an activity for all kinds of people on IWD.
Awesome Ways to Celebrate International Women's Day in 2023
As we said before today we wanted to offer a unique insight into some ways in which you can celebrate IWD this year, which is why today we want to take a step back from the usual recommendations and offer 10 unique and amazing ways you can rediscover and redefine what Women's Day means in your social circle.
1. Host a film screening about the experiences of women
Movies are powerful experiences that empower us and inspire us to do better, and learning about the unique and moving experiences of women that changed the world through cinema is a lovely way to spend Women's Day.
From political thrillers like Iron Lady that show us how Margaret Thatcher became the figure she's now known as, to the high-stakes court cases in On the Basis of Sex which completely redefined our judicial system, or even the classic Becoming Jane which lets us know about how the iconic Jane Austen achieved her calling as a writer; there's no shortage of films to choose from.
And if you haven't held a film screening before and aren't sure how to get started don't worry. With our WEMAX projectors, you only need a few seconds of setup to get a screening started on your house or even outdoors; all while ensuring you get the best quality possible.
Opt for the WEMAX Nova if you want true 4K quality and want to enjoy the cinema in a completely new way, and if you want to up the ante even further or already have a projector at home our 100-inch ALR screen has top-of-the-line ALFA technology and light-rejecting to ensure you get the most of your projector. You can also add projector accessories for your home projector to make the most of your viewing experience.
Check out our International Women's Day deals on the WEMAX website to get discounts and exclusive offers!
2. Organize a march to raise awareness for women's rights and gender equality
Rallies are an effective way to make some noise and promote ideas, and they are easier to organize than you might think. Most public locations don't require a permit to hold a rally, and even if they do that's only a few calls away. So if you want to bring attention to an issue in your community, start organizing a rally of your own.
3. Hold a conference or panel discussion on important issues affecting women globally
Sometimes the best way to push through a complex issue is to hold a conference and have the chance to hear the insight of people from all walks of life. So this Women's Day why not hold a panel of your own? Organizing a presential meeting only demands you get enough space, and now that tools like Zoom and Meet have changed the way we interact online, an online conference is easier to make than ever.
READ MORE: How To Pick Your Right Business Projector
4. Volunteer at a local women's organization or shelter
Doing real work with people who are already making a change is a great way to support women in your community. Most local organizations will happily accept volunteer help, and if you bring unique tools like a portable WEMAX projector to enhance their visual presentations you might even help them reach their next breakthrough.
5. Share inspiring stories and messages on social media
Not all gestures need to be grand, and at the right time, even just a few words can change a person's life. So this Women's Day takes some time to share your personal stories or uplifting messages online. By using hashtags like #IWD2023 or #EachforEqual you can easily get a wide outreach and make sure your words reach countless women this March.
6. Buy products made by women-owned businesses
If you want to enjoy some shopping and make good use of women's day sales why not opt to support women-owned businesses and entrepreneurs? That way you can enjoy your purchases while making sure every cent is directly benefitting women; everybody's winning at that point.
7. Donate to a charity that empowers women and girls
If you want your money to make an even more direct impact on the lives of women and girls you can always donate directly to a charity. Sites like DonorBox make it easy to look at multiple charities and choose which one fits your values, so it's easier than ever to donate.
8. Take part in a workshop
Around these dates you can expect to see many workshops aimed at women's leadership and empowerment, so why not take part in one? Sometimes the best way to enjoy a special date is to invest in yourself, and you might come back home with a completely new perspective on things.
9. Hold an art exhibition or performance to showcase the work of female artists
Any opportunity can be the one that changes a person's life, and for artists, there's never such a thing as too much exposure. So if you can make an exposition to support the local artists in your community you might be making a large impact on their lives. Plus art is a beautiful practice that unites all of us, so the exhibition itself can be a celebration of its own.
10. Participate in a virtual or in-person discussion with friends and family
Two heads think better than one, and a few dozen heads can come up with amazing ideas together. So if you still aren't sure what you can do this International Women's Day to support your local community, use the day to talk it out with the people in your life. Together you might come up with something that will leave a real impact on those around you.
Wrapping It Up
International's Women Day is more than just a date in the calendar; it's a powerful opportunity to show the impact of women in society as a whole. And this year you can celebrate it in brand-new ways if you are willing to spend a little bit of time organizing activities on your own. There's no right or wrong way to celebrate IWD after all, what truly matters is that we understand the spirit of it and support the women in our lives.
As part of WEMAX's social responsibility for women, we are always looking into new ways to support women, both professionally and in our communities. And we understand that this starts with opportunities and acknowledgment, two key features of our business practices. WEMAX is a leading company when it comes to laser, portable, and LED projectors. And our inclusive work team has constantly raised the bar in what clients can expect to see in a household projector.
WEMAX Projector for Holiday
Best Black Friday Projector Deals & Sales 2022: What You Can Expect
Best Halloween Gifts to Surprise Your Family in 2022
Be the first to know the latest updates, tips, how-tos, exclusive deals, and discounts from WEMAX. Sign up for our newsletter today!