Table of Contents:
Factors To Consider In Choosing The Right Size For Your Home Theater Room

Room Dimensions
Room Layout
Viewing Distance
Projector and Projector Size
Sound System And Acoustic

Advantages Of Smaller Home Theater Room

Cost-effective
More Cozy And Intimate
Flexible Than Bigger Rooms
Movable And Converts Any Space Into Home Theater

How To Make The Most Out Of Your Theater Room

Choose The Right Projector Screen Size
Use Compact Or Wall-Mounted Speakers
Choose Space-Saving Furniture
Maximize Smart Home Experience

Wrapping It Up
Have you always dreamed of having a movie-theater experience right in the comfort of your own home?
Complete with surround sound, a large screen, and lots of comfy seating options--a home theater provides an immersive and engaging experience that brings a touch of luxury to any home.
Now that you've decided to build your own home theater, the first step is to assess the space available. Although a big home theater makes a great spectacle for your guests, the reality is that not every homeowner has an extra 800 square foot room to spare for watching movies. 
The home movie theater experience may be larger than life, but does that mean your room has to be as well? We'll help you answer this question and walk you through some other important factors so you can create the perfect home cinema setup.
Factors To Consider In Choosing The Right Size For Your Home Theater Room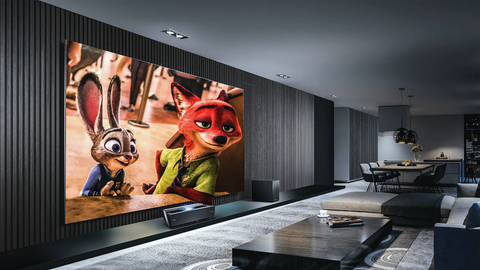 Here's the real deal–there is no perfect size for a home theater.
While most people may assume a large room is required, it's pretty easy to build a home theater in smaller spaces with proper planning and design.
But there's a lot more to setting up a home theater than just slapping a big TV on the wall and calling it a day. To create a truly immersive experience, there are a lot of more important factors to consider if you want a relaxing space that is capable of suspending reality--and all of this can be achieved in a relatively small room.
Here are some crucial factors that will ensure you find your ideal home theater dimensions: 
1. Room Dimensions
While there's no minimum room size required, a room that's at least 15 feet wide and 20 feet long is a good starting point when building your home theater. It also ensures you have enough extra space for standard theater equipment as well as optional furniture pieces like an A/V rack, bar, or an extra table.
For the ceiling, the ideal dimension is at least 7 feet high–following the rule of thumb that your screen should be at least two feet away from the floor. 
2. Room Layout
Proper seating is one of the most important factors behind an enjoyable cinematic experience. You can customize the size and shape of the seats depending on the number of people you want to accommodate–even adding some extra features like inbuilt phone chargers and cup holders. 
When laying out the space, it's important to be specific in the locations of your equipment and even the location of electric outlets and lighting. If you're building your theater in a smaller room, consider opting for smaller furniture and mounting your equipment on the wall to save on floor space.
3. Viewing Distance
Just like it is uncomfortable for most people to sit in the front row at the movie theater, it can be uncomfortable for you to sit too close to a big screen in our home theater.
According to the SMPTE (Society of Motion Pictures and Television Engineers), the ideal setup should guarantee that each person views the screen at 30 degrees. The proper distance requires some simple calculations: multiplying the horizontal width of the screen by 2 to get the minimum distance and 5 to get the maximum distance. 
To illustrate: if you have a 40-inch screen, the minimum viewing distance should be at least 80 inches and the maximum at 200 inches. 
4. Projector and Projector Screen Size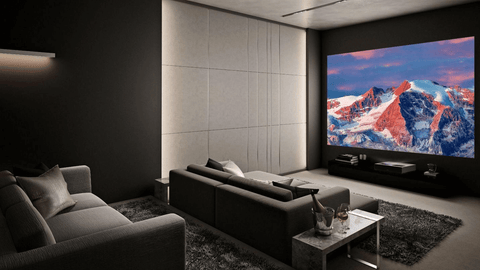 The centerpiece of any home cinema is of course the projector screen.
The best screen size depends on the viewing distance, aspect ratio, visual acuity, image resolution, and room size. Most home theater screens use an aspect ratio of 16:9 because it gives a broader scope of view with 35% more vertical height.
For that next-level theater experience, check out WEMAX Nova–a smart projector with 4K resolution and a variety of different dimensions so you can choose the right size for your setting.
5. Sound System and Acoustic
To create surround sound that mimics the real theater experience, a standard home theater should have five full-range speakers and at least one woofer. Speaker placement is also an important factor, so it's ideal that they should be placed at ear height and spaced at least 20 inches away from the walls.
Part of planning your acoustics is ensuring that the vibration and sounds of your theater do not reach other rooms in the house. If there is leaking noise, consider investing in sound-isolating and dampening materials.
Advantages of a small home theater room
While there may be some limitations in terms of space, setting up a home theater in a smaller room isn't impossible. In fact, it even has its own advantages:
1. Cost Effective
A smaller space means less room to fill.
It doesn't take much amplifier power to create surround sound in a small room -- so you won't need too large speakers or too powerful woofers. In the same vein, your screen doesn't have to be as large in order to be viewed by every person in the room.
2. More Cozy and Intimate
 A smaller space can only accommodate a few people -- which means you'll be dealing with fewer distractions when watching a movie.
You won't have to worry about someone blocking your view or more people talking throughout the movie. It gives you a new level of privacy and comfort that you won't experience with larger home theaters.
3. Flexible Than Bigger Rooms
With a smaller space, complete control over the layout. This means it's easier to customize the audio, lighting, furniture, and visuals to create the perfect atmosphere for your cinematic experience.
4. Movable and Converts Any Space into a Home Theater
 Planning to build a smaller home theater means that you can work with what you've already got at home.
You can use any extra small room you have -- a guest room or a basement -- and convert it into your dream theater. If all your rooms are occupied, you can even consider turning your living room into your personal theater.
How To Make The Most Out Of Your Home Theater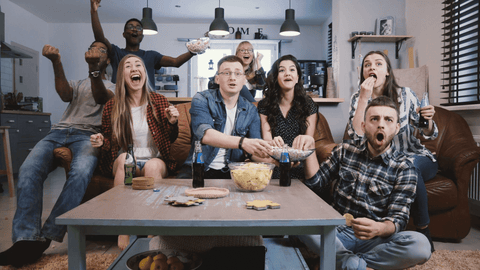 From screen to sound, here's how to make the most out of your space to create the full cinema experience at home:  
1. Choose The Right Projector Size
 While there may not be a perfect screen for all situations, you can make the most out of your projector by considering both the screen's aspect ratio and its intended use. Consider several factors in choosing the best projector for your home theater.
The first thing you need to do is understand the native aspect ratio of your visual content. The standard is usually 16:9, so you should aim for a screen within that ratio. Then consider the dimensions of your room to get the maximum size. 
If you're looking for the definitive screen for home theater, look no further than the WEMAX Vogue Pro -- providing true cinema scale with stunning resolutions and room-filling sounds.
2. Use Compact Or Wall Mounted Speakers  
Wall-mounted speakers provide surround sound without taking up extra space in your small home theater. 
Unlike traditional cabinet-style speakers which require external mounts and lots of space to be properly installed, wall-mounted speakers have installed in wall cavities -- the space between the ceiling and the wall. Their compact and flat design also makes it easy to hide, giving the illusion of more space. 
3. Choose Space-saving Furniture
To free up space, look for home theater seats that are designed specifically for smaller environments by changing certain elements of the seating, like those with thinner hand rests or compact cup holders. 
If you want a cozier and more intimate seating arrangement, opt for a couch instead of the traditional theater seats.  
4. Maximize Smart Home Experience
Your home theater experience should be carefree -- and with the right combination of smart accessories, you can create a smart home theater system that is inter-connected and ready for prime time. 
For a truly smart home experience, the WEMAX Dice is the way to go. This remarkably sized mobile projector is powered by Android TV OS and supports the Google Play app store, allowing you to downloaded popular streaming apps such as Amazon Prime Video and HBO Max at ease.
Wrapping It Up
You don't need a huge space or deep pockets to enjoy an immersive cinema experience at home. After all, planning and creativity beat out room size when it comes to building a home theater.
It's all about utilizing the strongest features of your small space and deciding on the most important factors–screen size, sound, and seating–to create a space that meets your viewing needs.
No matter how small your space is, getting a high-quality projector is a must-have if you're looking to take your home theater setup to the next level–and WEMAX has everything you need. 
WEMAX is the leading brand for laser projectors, portable projectors, and LED projectors that provide a real home theater experience. If you want to know about making the most out of your home theater, be sure to sign up for the WEMAX newsletter for more tips, how-tos, and exclusive deals.
Related Blogs from WEMAX
Hands-on: One Month With The WEMAX Go Advanced
WEMAX Nova In-Depth Review –The Best Laser TV 4K Cinema for Movie and Games
Top 10 Creative Ways To Use Your New Projector
Be the first to know the latest updates, tips, how-tos, exclusive deals, and discounts from WEMAX. Sign up for our newsletter today!